Here you can find events and information sessions that are run by Community Energy Groups. The Yarra Valley Community Power Hub proudly supports these events.
Saturday 13th August 2022 – 1pm-4pm @ The Memo in Healesville
---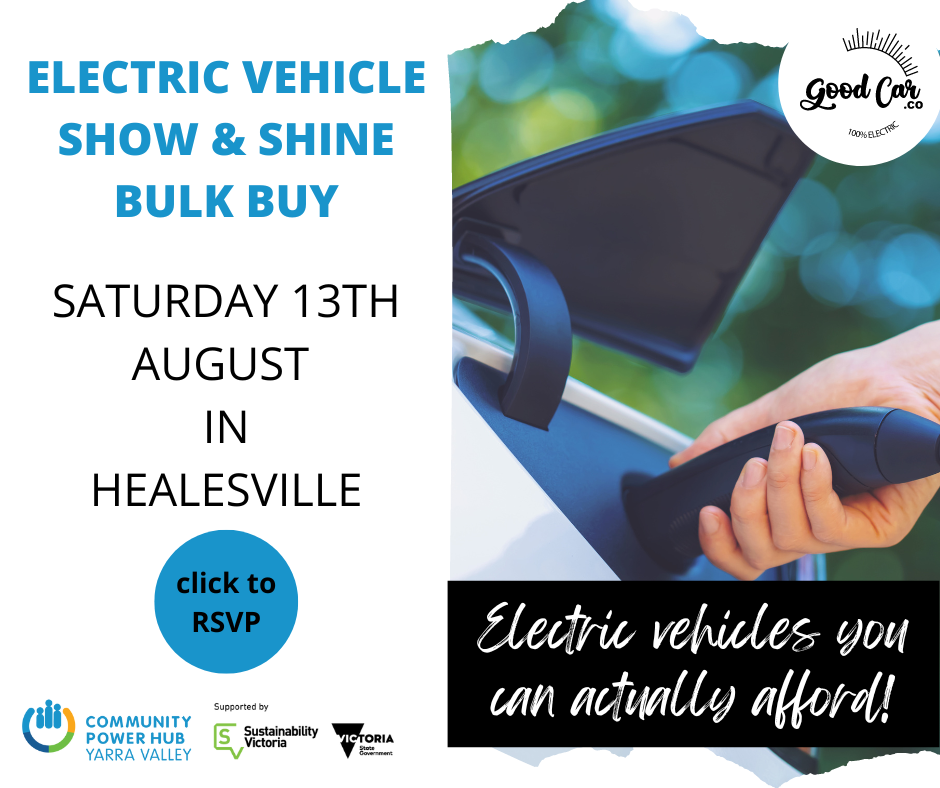 Brought to you by The Good Car Company
​There is so much on at this event!
showcase EVs available in the Bulk Buy
get you talking with local EV owners and ambassadors
give an EV presentation and hose a Q&A so you can get the answers to all your questions
take you for test rides
talk you through the process of ordering a car through the Bulk Buy
Clean Energy Nillumbik – Online – Saturday 27th August – 2pm – 4.30pm
---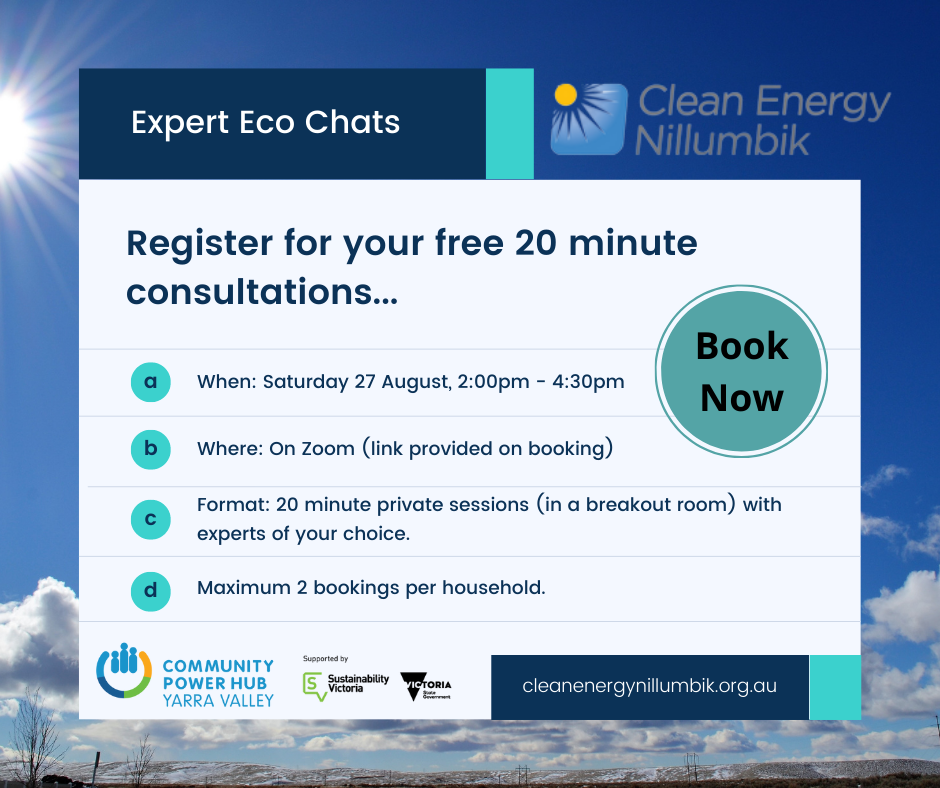 Are you thinking about solar power, batteries or a hot water heat pump? Looking for more comfort or lowering your energy bills? Renovating or building and looking for environmentally friendly options? Redesigning your garden, installing water tanks or purchasing an electric vehicle?
​Get free, one-on-one advice and tips from Melbourne's leading sustainability experts at the Yarra Valley Community Power Hub Expert Eco Chats 2022.
Experts in the program are:
Marie Carrel – Planet Architecture
Jesse Glascott – GLUX Builders
Chris Johnson – EcoMad
John Hassall – Greenly Landscapes
Craig Byatt – Craig Byatt Architecture
Ratko Mrkogaca – 3ARK
Mark Van Haandel – MVH Constructions
Lucinda Flynn – Going Green Solutions
Bryce Gaton – EV Choice
Rob Catchlove – Wave Consulting
Danielle King – Green Moves
Helen Gibson – Off Grid Energy Australia
Simone Schenkel – Gruen Eco Design
Tony Devlin – Australian Building and Maintenance
Narelle Edgar – Architect
Michael Stewart – Yarra Solar
Maurice Beinat – EcoMaster
James Rosier – EcoCraft
Hamish White – Sanctum Homes